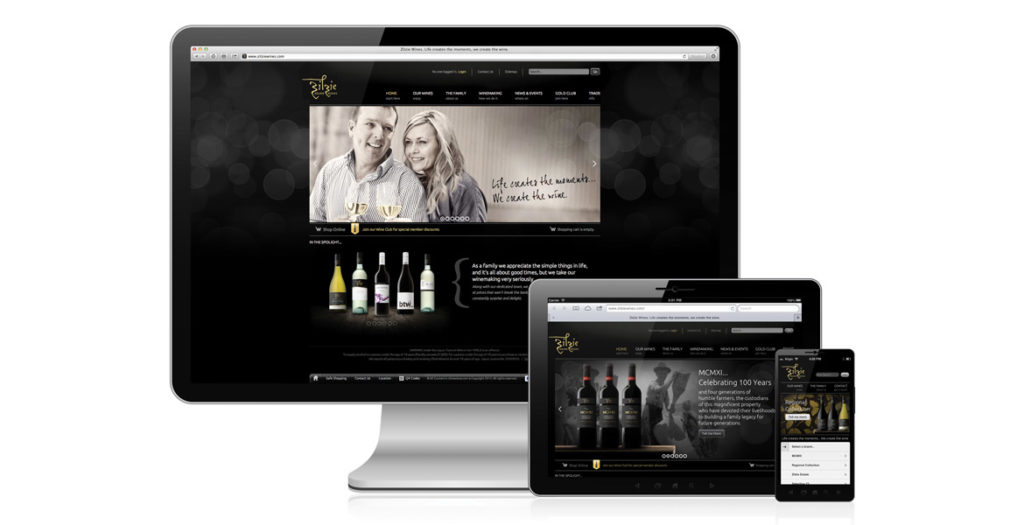 It's not enough these days for websites to just look "pretty", they need to be fully functional across a range of different platforms (desktop, tablet and mobile devices), as well as provide users with an interface that is easy to use, and our clients with a content management system that allows them to change their website at a moment's notice.
We had all this in mind when taking onboard the task of rebuilding the Zilzie Wines website.
Zilzie were looking for a site that would reflect their new wine branding, as well provide consumers with a personalized experience that would encourage purchase through the online store, as well as repeat visits to the site.
The build process we undertake at John Jewell Design is all-encompassing and includes website analysis, concept development, social media integration, testing over multiple platforms, and even staff training. We also believe in taking a collaborative approach with our clients, and we worked hand-in-hand with the Zilzie team throughout the process to ensure that the finished product delivered well beyond expectations.
A word from Zilzie…
The e-commerce channel is growing and changing everyday, JJD was able to offer the creative vision and technical know-how to build not only an impressive looking website, but a functional shopping cart that is easy for our wine-club members to navigate. Nothing usually beats on time and on budget, but we also regained control, JJD provided a manual and training, giving us the capabilities to edit 100% of our website so that it can change and grow alongside our business.

Carolyn Simonis, Zilzie Wines